Even before work from home restrictions were implemented, BDO had a well established digital working strategy. So from a technical standpoint, working from home was never a problem. Bart Anthonissen has been with the company for 18 years and is now responsible for the dissemination and application of compliance processes. For a number of years now he has also been a partner at BDO. He tells us how their working method came about and what advantages it offers.
"Faster, better, stronger"
Over the course of his accounting career, Bart has seen the landscape and client expectations change dramatically. "Today's customer wants to be able to access their data at the push of a button. So we recognise the need to be much more proactive and insightful than we used to be." he says. "In addition, customers are now also much more informed about accounting and taxation. So the conversations we have with them are challenging and instructive." By working digitally, the BDO team can show great flexibility in this regard.
The switch to digital came a few years ago. The company was looking for a tool to monitor the quality of their work. In addition, the tool had to allow interaction with the data and it had to be possible to improve the compliance processes. "Silverfin was at that time the only partner that could offer a broad enough solution for our compliance needs," recalls Bart. "And that's still true today." Moreover, Silverfin also scored good points as a partner. "The cooperation was very open and involved from the beginning," he says. "That too is very important to us, because we really look for partnerships."
Simplicity thanks to uniformity
Today, Silverfin is permanently open on the computers of all employees during a typical workday. "We want everyone to use Silverfin for all post-accounting," Bart explains. It is the central hub where the data comes in. In addition, it is also the central place for compliance and consulting. The other accounting tools used in the office are linked to Silverfin. "But often it is easier to access the data in Silverfin than in the linked tools," Bart believes.
In addition to the work files, BDO also uses the Annual Accounts and Corporate Tax modules. The all-in working method of combining the 3 modules has numerous advantages: "You only have to enter your data once. Thanks to the uniform way of working and standardisation, working is also easier," Bart says. "By working with one tool, it is clearer for everyone what is expected and where," he thinks. "Moreover, it is easier for employees to embrace the technology that way." To measure the impact of this new strategy and ensure their employees are reaping those same benefits, BDO held an internal survey at the end of 2020. The central question highlighted how Silverfin contributes to a pleasant working day. This looked specifically at work efficiency and the general well-being of the employees.
These were the key takeaways from the survey: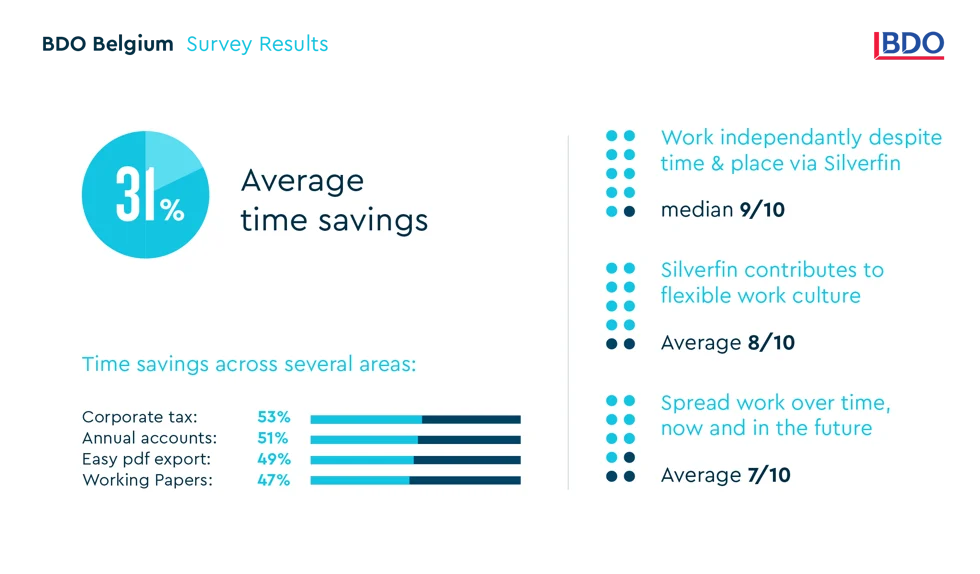 For BDO, Silverfin is not just a matter of efficiency. The platform also offers clear advantages in client communication and collaboration. "The tool lends itself perfectly to sharing your screen and going over reports together with the client," says Bart. "Because everyone always has the same document in front of them, there are no more misunderstandings or discussions about where exactly in the report we left off. It also allows for more interactive presentations, which our customers appreciate."
Take a considered approach
Bart encourages firms that have been thinking about digital transformation to take plunge themselves. Yet he warns against rushing into things. "Make sure you first focus on your goals so you can align the use and configuration of Silverfin with your internal processes", he advises. "Moreover, don't overwhelm your employees by trying to implement everything at once," he continues. "Step by step is always the best strategy." So are you also thinking about switching to digital? Then hurry. But do it slowly. We'll be happy to help you on your way.